2017 is almost over, and personally I like to sit down in a commutable chair and reminisce about what have happened the last 12 months.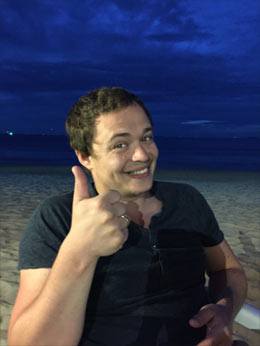 I have had a Danish site with jokes, quotes and riddles since 2014. My goal for 2017 was to create an English site. And after approximately 500 working hours I made it happen. It took me 3 month to get this thing up. If you look it in the everyday work I spent about 5,5 hours on this page 3 month in a row. And remember I have a normal job, a wife and two kids. It was hard, it was very hard. But I made it happen and happy I did.
Stopped smoking
I have smoked since I was 18 years old, today I'm 33 so I have smoked for about 15 years. Early 2017 I decided to try stop smoking and can today proclaim myself no longer a smoker and I haven't touched a cigarette in over 7 months now. It has not been easy and it's not the first time I've tried stop, but it looks like its gonna hold this time.
My oldest has begun in school
Yes sir. My boy at 6 has started school this year. I'm very proud as a father. Time flies, he is in the 1 grade and he's thankfully happy about it. One of the things that must be on my To-do list in 2018 has to be, "to spend more time with my kids", they grow up so fast.
Christmas and all that
For those of you know don't know it, I'm a nut about Christmas. I love everything about this holiday. I live in Denmark and unfortunately this year no snow, not yet anyhow. We have a lot of rain and its cold yes, but without the snow the "magic" disappears a bit. I cross my finger for a Christmas miracle and wish for snow.
Thanks to all of you
I have to thank everyone of you, all the visitors I have had and especially the people who take time to send submit new stuff like funny jokes, pick up lines, riddles and so on. You guys make my day, and without you this site would not exist.
I'm must say, not all the mails I have received have been positive, some mails contained threats and verbal abuse. Guess some don't like the stuff I got on the website. But hey, no matter how much one may try to please everybody it's just not possible. There will always be some folks who will have something against what one does. So I don't take those mails that seriously. I just don't care about hate, threats and so on. I'm here to make your day better in form of great jokes, riddles and so on.
So if you didn't get it the first time. Thank you once again to all people who takes time to visit this site and submit new material others can enjoy.
The year 2018
I feel that 2018 will be a really good year, something big will happen. I see the future like a mountain in the horizon. I must climb and conquer it to be satisfied. I never settle for what I have, don't get me wrong I'm happy and grateful for all the things I have in my life. But I never settle will always strive for more and so should you. I know everyone have different wishes and dreams just like me and that's is why you always should have your eyes on your future goals. Personally, I'm like turtle, slow but steady and step by step im getting toward my goal.

My personal goal for this website is to get it to be the biggest website containing jokes. It may take months even years, I don't care, I know my goal and I will not stop. I just hope we can do it together.
Same project new country
I got two site with jokes, one in Denmark and this one for people who speaks English. One of my goals for 2018 is to conquer more lands. The next target will be Sweden and yes it is different country and different language, but hey I'm willing try it out. I think its exciting to try to expand and see if it will work.

Other things in 2018
I would like to lose some weight. As I quit smoking earlier this year, I gained a few pounds and it does not suit me.
To work out and take a better care of my body.
I would like to see Bitcoin, Ethereum and Litecoin increase more in value. YeaQWh I'm one those who have invested in crypto currency.
Spend more time with my kids and wife
Work and develop more on Top-funny-jokes.com
I hope everyone has had a good year and have experienced something amazing this year.
2018 is just around the corner, and it's an exciting time to live in. We have never had so many choices when it comes to life like now. It is therefore also important that we use our time sensibly and create something out of the time we have here on earth. I wish you all a merry Christmas and happy new year.
See you on the other side of the year.
Sincerely Alexander Rosenborg